Tens of thousands line Bucharest streets in homage to late King Michael
Comments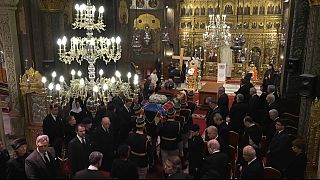 Tens of thousands of people have turned out in Bucharest to say goodbye to their king, Michael.
Leading the ceremony was the late king's daughter, Princess Margareta.
Members of Europe's royal houses attended the full state funeral, with Britain's Prince Charles representing The Queen.
Others present included the former monarchs of Spain, the Queen of Greece, Anne-Marie, the Grand Duke of Luxembourg, and the KIng and Queen of Sweden.
Michael, who spent most of life in exile in Switzerland, had an often troubled relationship with the post-Communist governments of Romania after he returned in 1990, as they feared he might try to restore the monarchy. Instead he helped negotiate Romania's EU membership.
Shouts of "King Michael!" and "Monarchy saves Romania!" could be heard from the crowd.
Aged only 22 Michael joined the coup against the fascist Antonescu dictatorship in 1944, only to be rewarded by the Communists by being driven into exile in 1947. His wife, Queen Ann, died last year.