Long road ahead for Brexit trade talks
Comments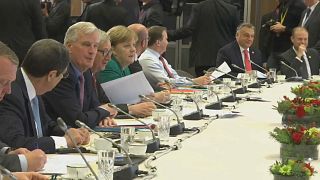 Brussels loves nothing more than endless debates about the future of Europe.
Today, there was a very real glimpse of what that near future looks like.
The British Prime Minister was long gone. And she left the remaining twenty seven leaders to mull the UK's future ties with the EU.
With Britain no longer in the room, they say sufficient progress has been made on the breakup issues - money, Ireland and citizens rights.
The next step is to give chief Brexit negotiator Michel Barnier the job of kicking-off talks on the future UK-EU relationship
There will be a post-Brexit period of two years where Britain pays into the EU's coffers, but will take rules rather than make them.
But officials in Brussels want more clarity from Britain. They say calls for a deep and special partnership with the EU after Brexit won't cut it for much longer. "We have not asked them to leave the EU, so the Brits now have to decide what they want," said Dutch Prime Minister, Mark Rutte.
The sentiment was echoed by German Chancelllor Angela Merkel.
"I have not participated in the referendum and I would not have voted for the UK to leave the EU. We have to put into effect what the UK want," she said.
The road ahead won't be easy for Theresa May.
She'll have overcome the differences in parliament back home and amongst the other twenty seven governments.