At least 6,700 Rohingya killed in first month of Myanmar violence: MSF
Comments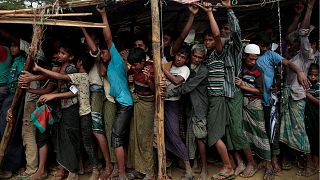 Copyright

REUTERS/Alkis Konstantinidis
At least 6,700 Rohingya Muslims were killed in the first month of a crackdown by security forces in Myanmar's Rakhine state that began in late August, according to Doctors Without Borders (MSF).
The estimate, based on surveys of Rohingya refugees in Bangladesh and published on Thursday (December 14), is vastly higher than Myanmar's official figure of 400.
The aid group said the estimate was the "clearest indication yet of the widespread violence" by Myanmar authorities.
In total, MSF estimates that at least 9,000 Rohingya died in Myanmar between August 25 and September 24.
It said some 71.7 percent of the fatalities were caused by violence, according to "the most conservative estimations", and 730 of those were children under the age of five.
The majority of the people killed were shot, while others were burned and beaten to death.
MSF Medical Director Dr. Sidney Wong described the results of the surveys as "staggering".
"The numbers of deaths are likely to be an underestimation as we have not surveyed all refugee settlements in Bangladesh and because the surveys don't account for the families who never made it out of Myanmar," Wong said.
"We heard reports of entire families who perished after they were locked inside their homes, while they were set alight."
The estimate was released as NGO Save the Children issued a statement saying it was on "high alert" for cases of the deadly disease diphtheria in Rohingya camps in Bangladesh.
The disease, which is caused by a bacterial infection, has so far claimed the lives of at least 15 Rohingya who fled to Bangladesh.
Hundreds of thousands of Rohingya have fled to Bangladesh since the crackdown in Rakhine began on August 25 after militants launched an attack on police posts.
The United Nations has described the military operation as "ethnic cleansing", an allegation denied by Myanmar.
The predominantly Muslim Rohingya minority group are denied citizenship by Myanmar, where they are regarded as illegal immigrants from Bangladesh.
The country's de-facto leader Aung San Suu Kyi and her government have blamed the violence on "terrorists".