Republican candidate refuses to concede in Alabama senate election
Comments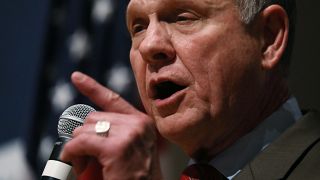 Democrat candidate Doug Jones claimed victory in the Alabama Senate election despite his Republican rival's refusal to concede until all the votes were finally counted. The result is a blow to Republicans and narrows their majority to just two seats, making it increasingly possible that democrats could retake control of the chamber.
"I have always believed that the people of Alabama had more in common than to divide us", Jones told supporters. "We have, we have shown not just around the state of Alabama, but we have shown the country the way - that we can be unified."
Although 99 percent of the votes had been counted Republican Roy Moore refused to concede, telling supporters that state law could trigger a recount if the margin turned out be less than half a percent.
"What we've got to do, is wait on God and let this process play out," he announced on Wednesday morning. . "I know it's late we can't wait and have everybody wait till after 11 o'clock but the votes are still coming in and we're looking at that. May God bless you as you go on, may he give you safe journey and thank you for coming tonight. It's not over and it's going to take some time. Thank you."
But Donald Trump did appear to concede defeat through a tweet, and congratulated Doug Jones on his victory.
Trump had endorsed Moore throughout the campaign that was fought in the face of allegations of sexual misconduct by the Republican. Several women claimed that Moore had sexually assaulted them or pursued them when they were in their teens and he was in his thirties. He has denied the allegations or that he even knew any of the women concerned.