Donald Trump in 'sexist' row over sexual misconduct allegations
Comments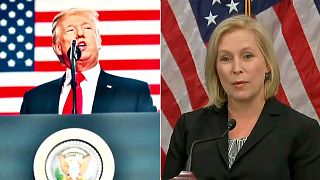 Calls for Donald Trump to step down after allegations against him of sexual harassment have reached new heights. It follows a tweet by the president against a Democrat senator which has been described as "a sexist smear".
Six female lawmakers have now called for Trump to quit due to what they call credible accusations.
"Mr president, you do not live under a different set of rules," said congresswoman Brenda Lawrence.
After Senator Kirsten Gillibrand added her name to the list, Trump lambasted Gillibrand on social media claiming she had come"begging " to him for campaign donations and " would do anything " for cash. ,
The high-profile Congresswoman promptly fired back:
"It was a sexist smear attempting to silence my voice and I will not be silent on this issue."
Gillibrand's Democrat colleague Jackie Speier was aghast, describing what she said was a sexual innuendo as "grotesque":
"It took my breath away, and it represents the conduct of a person who is ill equipped to be the president of the United States."
White House Press Secretary Sarah Sanders was forced to explain what Trump meant by the tweet at the next press briefing:
"He's not alleging anything. He's talking about the way our system functions as it is; that politicians repeatedly beg for money"
To date, 17 women have accused Trump of forced kissing, unwanted touching and groping incidents spanning decades. Around 60 cross party lawmakers have urged Congress to investigate. Trump has called the allegations "fabricated stories".