British cyclist Chris Froome failed drug test at La Vuelta, risks losing title
Comments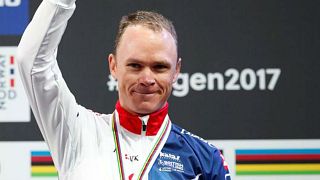 Four-time Tour de France winner Chris Froome has tested positive for elevated levels of Salbutamol, a medication that is used in inhalers, during Spain's La Vuelta on September 7. The British rider's team has insisted that the positive urine sample was due to Froome's acute asthma treatment. 
It's worth mentioning that Salbuturol is a good masking agent for other drugs possibly taken.

Cycling entrepreneur
In response to inquiries by the UCI, the cycling's world governing body, Froome's team said in a statement that the team's doctors to increased Froome's intake of Salbutamol during the final week of the Vuelta after the cyclist experienced an acute asthma attack.
Froome's increased dosage of Salbutamol to combat his acute asthma occurred in the run-up to the September 7 urine test.
The legal threshold of the medication allowed by the World anti-doping code is 1,000 nanograms per millilitre (ng/ml). Analysis of Froome's urine test indicated a Salbutamol concentration of 2,000 (ng/ml) in the cyclist's body at the time of the test. 
According to Sky Team, Froome was tested after every stage through this period and had declared the use of the medication as part of the process.
The statement added that dosages of Salbutamol could sometimes result in higher urinary concentrations and that a wide range of factors would affect the concentrations, including the medication's interaction with food and other medications.
"My asthma got worse at the Vuelta so I followed the team doctor's advice to increase my Salbutamol dosage. As always, I took the greatest care to ensure that I did not use more than the permissible dose," said Froome. 
According to Team Sky's statement, Froome has had asthma since childhood and regularly uses Salbutamol to "ease symptoms brought on by exercise". 
The team's principal, Sir Dave Brailsford, said that he had the "utmost confidence" that Froome followed the medical guidance and stayed within the permissible limits of the medication.
The Unione Cycliste Internationale said it would not comment on the drug test at this stage. However it noted that the World Anti-Doping Agency's rules state that an athlete's excess presence of Salbutamol can be considered therapeutic if the athlete "proves, through a controlled pharmacokinetic study, that the abnormal result was the consequence of the use of the therapeutic dose (by inhalation) up to the maximum dose indicated above."