Thousands displaced as severe floods ravage Italy
Comments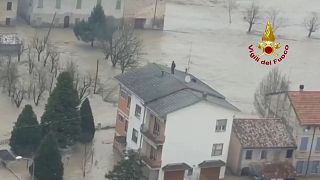 About 2,000 people have been displaced by flooding in the towns of Lentigione and Colorno as heavy rains swept across northeastern Italy causing nearby rivers to burst their banks.
The Emilia-Romagna region, where the two towns are located, was one of the hardest hit.
Dramatic video from Italy's Civil Protection Agency, Vigili del Fuoco, showed residents stranded on the roof or being led away in a raft to safety. 
Fifty people had to be airlifted to safety by helicopter.
Residents are now waiting for the flood waters to subside before the river banks can be repaired and they can get back into their homes to assess the damage.
There is high water in Venice too, with St Mark's Square among the areas affected.
Ice and snow hit other regions
Other regions were not spared and were on red alert over the conditions. In Tuscany, the Serchio river burst its banks in Lucca while in Turin snow and ice plagued the province—prompting airport delays. The extreme weather, including ice and high winds in Piedmont, caused significant rail and road traffic disruptions with the weight of snowfall causing trees to fall across roads.
Schools in northern Italy, including in the Piedmont and Tuscany regions, were closed on Monday, according to Italian wire service ANSA. In Tuscany, some schools were closed for a second day.
Power cuts
Criticism has been voiced over the lack of preparation in the country for several weather conditions. Tens of thousands of homes were left without power for an extended period and residents have complained that the alarm wasn't sounded in time to warn people of the impending flooding.
Climate change
Many have been blaming the inclement weather on climate change, as it is in stark contrast to the rest of the year. In 2017 Italy, according to the CNR (Italian Institute for Atmospheric Sciences and Climate), was the driest country in Europe for the first nine months of 2017. Only half of the rain fell which was expected.