World Trade Organization's ministerial conference opens in Buenos Aires
Comments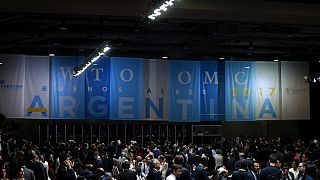 The World Trade Organization's 11th ministerial meeting has opened in Buenos Aires, Argentina.
Regional leaders called on the development of a more inclusive form of global commerce "to meet the needs of the 21st century" during the inauguration of the event.
Host country president, Argentina's Mauricio Macri was accompanied by his counterparts, Michel Temer of Brazil, Horacio Cartes of Paraguay and Tabare Vazquez of Uruguay.
Argentina's hosting of the event is being seen as a form of global recognition for the market friendly policies put in place by the centre right leader, who came to power in 2015.
"It is the responsibility of us all to face up to the challenges of the 21st century and convert them into opportunities for a more inclusive future," Macri said.
The WTO Ministerial Conference, which is the topmost decision-making body of the organisation, usually meets every two years, and it brings together all members of the WTO, all of which are countries or customs unions.
The Buenos Aires edition is marked as also marked as much by the recent lack of commitment toward the WTO from the world's most powerful economy
Since taking over office, U.S. President Donald Trump has lambasted the organization and his "America First" motto leading to widespread concerns about an international fallout toward protectionism.
While the opening event took place inside a newly opened plush conference hall several hundred people gathered to protest against the event in the centre of the Argentine capital.
WTO meetings often attract protests by anti-globalisation groups, but they have remained largely peaceful since riots broke out at the 1999 meeting in Seattle.
"We understand that they are the global representatives of international capitalism, and right now we want to show them the state our most impoverished sectors of society due to the policies of the Argentine President's government." said Arturo Fernandez, activist, Barrios de Pie (Argentine social organization).
"What we are looking for is greater distribution of wealth, taking into account the people.... and not the corporations." said Walter Cordoba, coordinator of the Neighbourhoods which stand up movement.
Experts believe the meeting, which will run until Wednesday, will be a success if a "clear and forceful" statement is made on the need to boost the development of the global trading system.
Officials believe that during the meeting a political commitment to combating overexploitation could be signed to limit subsidies to those who have carried out illegal fishing.
Representatives of the Mercosur regional bloc, made up of Brazil, Argentina, Uruguay and Paraguay, are also expected to meet with their European Union counterparts to advance a trade agreement that could be announced in the coming days in Buenos Aires.