Global arms sales rise for first time in five years
Comments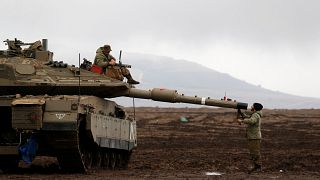 Arms sales rebounded in 2016, in a context of smoldering political tensions and conflicts, from eastern Ukraine to Syria, Libya and Iraq.
The world's biggest defense companies saw their revenue rise to $374.8 billion (317 billion euros), a 1.9 percent increase year-on-year, the Swedish peace research institute (SIPRI) said in a new report published on Monday.
SIPRI says it's the first rise since 2010, though sales have grown by 38 percent since SIPRI started reporting them in 2002.
Some countries are eager to build up their defence, South Korea being one example in the face of growing threats from the North.
So who benefits the most from the growing demand? Topping the chart are US companies, which sell 57.9 percent of the world's weapons. Then comes the UK - despite Brexit - followed by Russia.
The picture is more mixed in Western Europe. French and Italian firms sold fewer arms, but sales rose by 6.6 percent in Germany alone, helped by demand for its tanks.
Interestingly, China does not appear in the report as SIPRI experts have no reliable data on the country's arms trade, but Aude Fleurant, who heads the institute's arms and military expenditure program, told Deutsche Welle that Chinese arms groups likely feature among the 20 biggest in the world.
twttr.ready(function(){twttr.widgets.createTweet("940174430793322496",document.querySelector("[data-tweet-id='940174430793322496']"),{theme: "light"})})