Ancient tombs uncovered in Egypt
Comments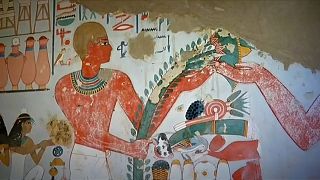 Two ancient tombs have been uncovered in Egypt, in the Nile city of Luxor.
Among the contents are a linen-wrapped mummified body, possibly that of a top official from 3,500 years ago.
The Ministry of Antiquities said the tombs were actually discovered in the 1990s by German archaeologist Frederica Kampp. But until recently they had remained sealed.
Hundreds of carved statues are among the artefacts uncovered at the Draa Abul Naga necropolis near the famous Valley of the Kings, where ancient Egyptian pharaohs were laid to rest.
The treasures also include vivid wall paintings.
Authorities hope such finds can attract more foreign visitors, to revive a tourism industry hit hard by unrest after the 2011 uprising and recent extremist attacks.
*with Reuters *