HMS Queen Elizabeth: Britain's biggest aircraft carrier commissioned into service
Comments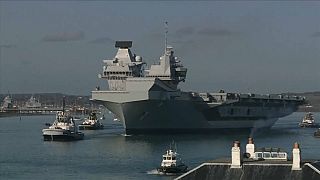 Britain's most powerful warship, HMS Queen Elizabeth, has been formally commissioned in Portsmouth by the Queen.
With a price tag of more than 3.5 billion euros, the new aircraft carrier and its sister ship, HMS Prince of Wales, are the most expensive in the Royal Navy's history.
The 280-metre vessel will receive its F-35 fighter jets next year, though it is not set to make its first proper deployment until 2021.
Britain's Queen Elizabeth told the ceremony, which was held on the aircraft carrier's huge hangar deck, that it was the "most powerful and capable" vessel to raise the White Ensign - the flag that flies on Royal Navy ships.
The aircraft carrier arrived in Portsmouth during the summer after a two-month sail from Scotland's Rosyth dockyard where it was built.
Gavin Williamson, the UK's Defence Secretary, said: "Our new aircraft carrier is the epitome of British design and dexterity, at the core of our efforts to build an armed forces fit for the future. 
"For the next half a century both carriers will advance our interests around the globe, providing the most visible symbol of our intent and commitment to protect the UK from intensifying threats, wherever they may come from."
Ten facts to know about HMS Queen Elizabeth
It is the largest warship to be built for the Royal Navy.
Its 280m long x 70m wide flight deck is the equivalent of three football pitches
Its foghorn has a volume of 162 decibels
It weighs 65,000 tonnes
Seven coats, using up 250,000 litres of paint, were used on the ship
The warship has 250,000 kilometres of electric cable
Its weapon system can fire 3,000 rounds-a-minute
The ship's design and build has taken 28 million hours
It has its own cinema, pharmacy and operating theatre
Power generated in the ship's propellers is equivalent to 50 high-speed trains
Source: Royal Navy