Australian MP proposes to partner during parliament session
Comments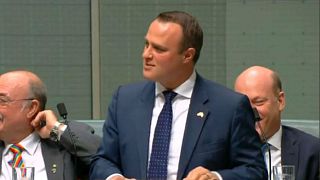 A moving moment took place in Australia's Parliament when Liberal MP Tim Wilson proposed to his partner, Ryan Bolger, during Question Time on Monday (December 4).
Speaking about the proposed same-sex marriage bill, Wilson talked about his own experience living as a gay man.
"If I could go back and tell that scared 18-year-old kid he'd be here speaking here, with his partner, Ryan in the gallery, he wouldn't believe me," said Wilson.
Then looking directly at his partner sitting in the gallery, Wilson said, "This debate has been the soundtrack to our relationship."
"So there's only one thing left to do. Ryan Patrick Bolger, will you marry me?"
Bolger smiled and mouthed "yes".
Wilson appears to be the first Australian MP to propose on the floor of the House, according to a tweet by the Australian House of Representatives. 
Other Australian MPs proceeded to congratulate Wilson for proposing to his partner.
An ABC article said the MP had been engaged to his partner Ryan for nine years. 
Same-sex marriage legislation was introduced in the House of Representatives on Monday, December 4th, and is expected to pass.