"Don't Forget Me" wows Turin Film Festival
Comments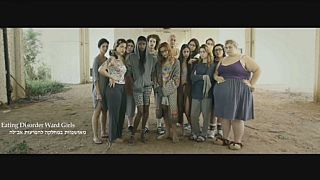 Copyright

Yif'At Prestelnik Films
The 35th edition of the Turin Film Festival has come to an end, and, as Cristiano Tassinari reports for euronews, this year's big winner is Israeli film Don't Forget me from director, Ram Nehari.
It explores the relationship between Tom, a girl who suffers from anorexia, and Neil, a socially-inept tuba-player. Their love develops against the backdrop of a psychiatric hospital and a centre for eating disorders, and flourishes because of their shared desire to be normal.
Nehari told euronews: "It's a movie about people, about an anorexic girl and a psychotic guy, and it's the problem [that's] everywhere. People you don't see, but you can see Israel through their eyes over a mess of psychotic places."
Don't Forget Me also scooped awards for best actor, for Nitai Gvirtz, and Moon Shavit shared the best actress prize with English Emily Beecham, for her role as a troubled but privileged thirty-something Londoner in the film Daphne.
Shavit told euronews: "I think [anorexia] is a problem these days, and like I see with younger generations that they're... either its going to get a lot worse or its going to go up? I'm curious about it and I hope for the best."
Economic grind
The media prize went to Portuguese director Pedro Pinho's Fabrica de Nada, which zooms in on the human cost of Portugal's ongoing economic crisis.
Also about the grinding reality of work, Lorello e Brunello from Italian director Jacopo Quadri, won the special jury prize for its depiction of the relentless toil of twin brothers in Tuscany.