Siberia's Santa: Lord of the Cold
Comments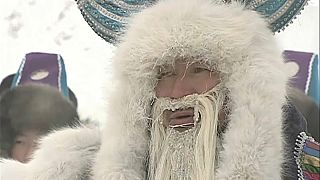 Residents of what is known as the coldest village on Earth have celebrated the start of winter.
Oymyakon in Siberia has its own version of Santa: he's called 'Chyskhaan', the Lord of the Cold.
And cold it is. The temperature was minus 56 degrees Celsius on Friday (Dec. 1) when Chyskhaan performed his annual ritual congratulating all Russians and welcoming the start of winter.
The Slav Santa Claus, Grandfather Frost, joined the celebration and the two folklore characters lit a Christmas tree as a symbol of winter.
The local tale of Chyskhaan is that every autumn he emerges from the Arctic ocean, bringing cold to the earth with his breath.
Folkore says if his horns are long, severe frosts are to be expected.