Germany's SPD says grand coalition 'not automatic'
Comments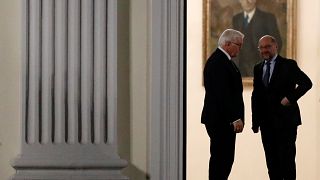 The leader of Germany's Social Democratic party has denied reports that he has agreed to a new grand coalition with Angela Merkel's conservatives.
Such an alliance between the country's two biggest parties has ruled Germany for the past four years and has continued in a caretaker capacity since an inconclusive general election in September.
Martin Schulz insisted on Friday that various options for forming a government were still on the table.
"I can clearly deny the report about me having given the green light for grand coalition talks. This is simply wrong," Schulz said after the German newspaper Bild reported that the two parties had agreed to start talks on a new grand coalition after a meeting with President Frank-Walter Steinmeier on Thursday.
Schulz said a grand coalition was "not automatic" and that the SPD party convention would also discuss other alternatives.
"We have a lot of options for building a government. We should talk about each of these options. That's exactly what I will propose the party leadership on Monday," he said.
Schulz met with President Steinmeier on Thursday night as part of efforts to break the political crisis rocking Germany since Merkel's bid to form a coalition with two smaller parties failed.
However the SPD is wary of continuing as a junior partner to Merkel since it suffered its worst result ever in September's election.
Schulz also said he wants changes in Germany's approach to the European Union.
"We need a different Europe. And the initiatives the French president has taken must not be answered with a constant "no" or with silence from Berlin," he said.