Germany coalition talks may not start until 2018
Comments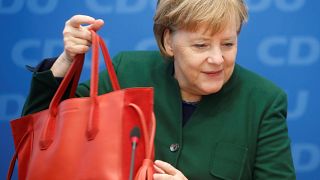 Coalition talks between the CDU and the SPD may not start until 2018, a top official close to Chancellor Angela Merkel has said. 
On Saturday Merkel said: "We must evaluate possible talks with the Social Democrats. Of course we are prepared to talk, but talks can only be conducted on the basis of mutual respect. That must be clear."
Merkel's forth term was thrown into doubt last week after three-way coalition talks with the Free Democrats and Greens collapsed, prolonging uncertainty in Germany.
Merkel's previous coalition partners the SPD had vowed to go into opposition after the party's worst election result since the second world war... but have since signalled a potential end to the deadlock by agreeing to discuss propping up her government in another grand coalition.
Meanwhile SPD leader Martin Schulz has pledged to give members a vote on any deal the party reaches with Merkel.