Trump denies using "Pocahontas" as racial slur against democratic senator
Comments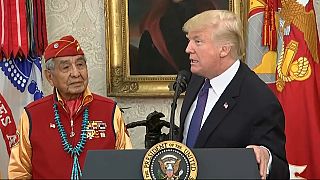 Donald Trump has caused another stir by taking a pop at a political rival during a ceremony to honour Native American war veterans.
The US President repeated a racial jibe about Democratic Senator Elizabeth Warren, whom he's often derisively dismissed as "Pocahontas".
"You were here long before any of us were here," Trump said. "Although we have a representative in Congress who they say was here a long time ago. They call her Pocahontas."
Trump repeatedly referred to Warren as "Pocahontas," the name of a famous 17th-century Native American, during his presidential campaign in a mocking reference to Warren's having said in the past that she had Cherokee ancestry.
The senator, however, seems to be taking it in her stride:  "It is deeply unfortunate that the president of the United States cannot even make it through a ceremony honouring these heroes without having to throw out a racial slur," Warren said on MSNBC.
Warren, one of the Senate's most prominent liberal Democrats, is a noted legal scholar who taught at Harvard Law School and served as an adviser to former President Barack Obama before she was elected to the Senate in 2012.
White House spokeswoman Sarah Sanders disputed the characterisation of Trump's remark as a racial slur.
"I think what most people find offensive is Senator Warren lying about her heritage to advance her career," Sanders told reporters.