Irish Deputy Prime Minister resigns
Comments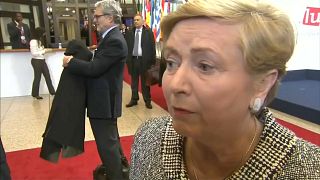 Irish Deputy Prime Minister, Frances Fitzgerald, has bowed to pressure to resign in order to avoid the collapse of the minority government and likely snap election.
Opposition party, Fianna Fáil, had called for her to stand down or face a vote of no confidence after leaked documents revealed that she had been aware of a proposed official smear campaign against police whistleblower, Sergeant Maurice McCabe.
Such a measure would have been disastrous for the ruling Fine Gael party, which relies on a "confidence and supply" agreement with Fianna Fáil in order to get things done.
No confidence
Speaking before Fitzgerald announced her decision, opposition leader Micheál Martin said:
"This can be resolved if the Tánaiste [Deputy Prime Minister] steps aside. There's quite a number of people in Dáil Eireann [parliament] who do not have confidence in her because of this. We don`'t want a general election."
Prime Minister Leo Varadker said afterwards that a good woman was leaving office without a fair hearing.
Relief before border negotiations
The Irish government will be glad to see the back of the latest crisis. It needs to maintain its authority abroad as it enters negotiations in which it will fight to keep the border between Northern Ireland and the Republic of Ireland open when Britain exists the European Union.