Brexit could be a matter of life or death for Northern Ireland
Comments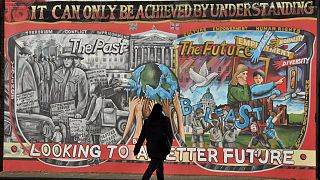 The two dominant parties in Northern Ireland, Sinn Fein and the DUP, both have terrorist origins and once killed each other. Now some fear those days could return because
of Brexit. The Protestant DUP campaigned to leave the EU, while Catholic Sinn Fein and 58% of the population voted to remain. So why not unite with the south and stay in the EU?
That is a Protestant nightmare.
"The biggest risk is political, and that is that Brexit becomes another divisive feature between the two main communities in N. Ireland: those who wish to remain part of the UK and those who aspire to a united Ireland," says the Head of the EU Commission in Belfast, Colette Fitzgerald..
Sinn Fein and the DUP had already fallen out and power-sharing had been suspended. Now Sinn Fein says a Brexit "hard" border will damage the economy, and goes against the wishes of the majority. Nonsense,
says the DUP.
"One of the intelligent solutions is to use electronic surveillance of trade across the border using vehicle recogntion number, matching that up to the invoices which people will have to supply anyway and do supply at present, and that's one way of monitoring trade back and forth across the border. You don't need border posts, you don't need to stop people ; of course you would back that up with the occasional physical checks if you felt that that was needed," says the DUP Brexit spokesman, Sammy Wilson.
The prospect of the DUP getting everything it wants from London in exchange for propping up the Conservative government adds fuel to an already tense situation.