Egypt mourns mosque massacre as the military strikes back
Comments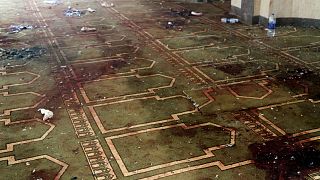 The death toll in Egypt's worst militant attack in modern history has now passed 300.
Militants stormed a Sufi mosque near El-Arish town in northern Sinai Province and sprayed gunfire at worshippers during Friday prayers.
No one has claimed responsibility but the government has blamed so-called Islamic State.
ISIL may have been motivated to attack the mosque because they regard Sufis as unbelievers who revere saints and shrines.
That would mark a change in strategy - they've been attacking the security services on an almost daily basis and more occasionally, Christians and their churches in mainland Egypt.
In response the military bombed suspected militant sites in the Sinai desert and President al-Sisi declared three days of  mourning.
The Islamist insurgency in Sinai began after President Mohamed Morsi, who supported the Muslim Brotherhood, was toppled by the military and al-Sisi in 2013.
Analysts say the Islamic State group want to carve out a statelet in the Sinai region similar to the one they had in Syria and Iraq.
But if they did massacre hundreds of Muslims in a mosque, public opinion in Egypt would almost certainly harden against them.