Puigdemont launches his Catalan election campaign from Belgium
Comments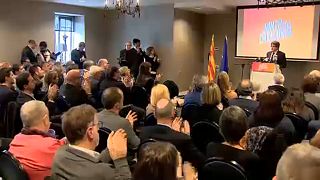 Catalonia's former president Carles Puigdemont is having to launch his regional election campaign from exile in Belgium.
He fled Spain last month after the government charged him with sedition for holding an illegal referendum on independence.
His government declared that 90 percent voted for independence but the vote was disrupted by riot police sent in by Madrid who had already declared it illegal.
Carles Puigdemont says during the presentation of the candidacy Together for Catalonia that the Catalan people "will ratify" that they want independence in the upcoming election ➡️https://t.co/kLolvWFQES. pic.twitter.com/5A7MO89P9A

— Catalan News (@catalannews) November 25, 2017
Puigdemont addressed his Together for Catalonia party candidates at a hotel near Bruges, saying that Europe must recognise the referendum result, which his administration in Barcelona declared was a win for independence.
"If on the 21st Europe wants to continue giving lessons for example to China or to Turkey or South American countries where human rights are violated, and Europe wants to present itself as a moral authority, the first thing it should do is to not allow the rights of its own territory to be violated, because this is what is happening in Catalonia now."
[This article was updated on 5/12/17 to clarify in the headline that the campaign being launched from Belgium was that of Carles Puigdemont and to remove the final sentence which included speculation about the possible outcome of the election]