Drowning sparks outrage over Turkish crackdown
Comments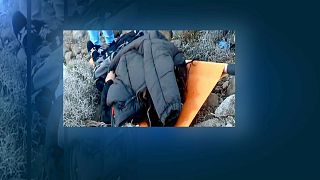 A family of five fleeing Turkish authorities has drowned after their boat capsized in the Aegean Sea. Their bodies washed up on the Greek island of Lesbos.
The victims were named as Hüseyin Maden, his wife Nur Maden, and their children Nadire Maden, Bahar Maden and Feridun Maden.
A Turkish MP said prosecutors were investigating the Maden family over ties to exiled cleric Fettulah Gulen. Gulen is accused of masterminding last year's attempted coup against Turkey's president Erdogan.
Turkish authorities often cancel the passports of suspected Gulenists, forcing them to use unconventional routes out of the country.
MPs and activists tweeted their shock at these latest deaths. "It's a sad day for the whole country," one opposition MP wrote. "People are dying in the absence of democracy and law". "It was not their bodies but our humanity that washed up on that shore," said journalist Ismail Kucukkaya.
The drowning has sparked outrage over an ongoing political purge that has seen hundreds of thousands of civil servants, teachers and journalists imprisioned or fired from their jobs.
The government says the measures are necessary to protect national security. Critics say it's a witchhunt designed to stiffle all opposition to President Erdogan's increasingly authoritarian regime.