Berlin airport opening faces new delays
Comments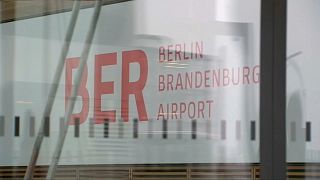 Germany's reputation for punctuality has taken a hit as local media report yet another delay to the opening of the Berlin Brandenburg Airport.
Originally scheduled for 2011, Der Tagesspiel newspaper says the latest talk is of mid- to late-2020. It's the seventh time the opening has been postponed since the project began in 2006.
The airport is jointly owned by the city of Berlin, the state of Brandenburg and Germany's federal government.
The delays have already inflated the budget by billions of euros and continue to cost the German taxpayer around one million euros a day.
The latest setback is reportedly due to problems with fire protection. Other errors over the years include badly installed cables, escalators that were too short and a roof that was too heavy.
Corruption is also a factor – last year one former airport employee was sentenced to prison for taking bribes and dozens of others have been fined.
Collateral damage includes construction companies, retail outlets and taxi firms forced into bankruptcy and one former Berlin mayor forced out of his job.
The new facility is expected to service some 34 million passengers a year and will replace the German capital's ageing Tegel airport. Assuming, of course, it ever gets off the ground.