Bangladesh and Myanmar begin talks over refugees
Comments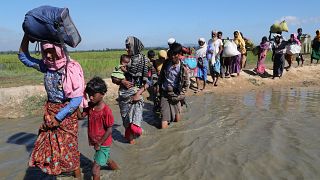 Bangladesh says its has begun talks with Myanmar to reach a deal on repatriating some of the 600,000 Rohingya refugees who have fled there to escape violence across the border.
The announcement comes as EU foreign police chief Federica Mogherini and other foreign ministers visited the Rohingya's make-shift camps before flying to Myanmar for a meeting on the crisis.
"More than putting pressure, I would say that our approach has always been and will always continue to be to offer a negotiating space. So it is the responsibility of the authorities to find solutions and again the international community has indicated some of the solutions, especially the Kofi Annan Plan and Aung San Suu Kyi has committed to implement and we are there to support her in doing this," said Federica Mogherini
Mogherini later met with Bangladesh's Prime Minister Sheikh Hasina. The EU has long been seeking ways to support the premier's country which is struggling to cope with flood of refugees.
Meanwhile China has urged the international community not to complicate the crisis. Bejing which is a firm ally of Myanmar and opposed a recent UN resolution criticizing the military-led violence against the Rohingya has said it will help facilitate dialogue.