Zimbabwe: Anti-Mugabe protests as pressure piles on veteran leader
Comments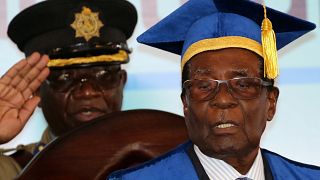 Protesters calling for Robert Mugabe's resignation after 37 years as Zimbabwe's president are due to take to the streets of the capital Harare on Saturday.
Pressure is mounting on the 93-year-old to quit, with all the main pillars of his long rule either turning on him or offering no support.
Mugabe's authority has collapsed since an army takeover on Wednesday.
As Zimbabwe enters the post-Robert Mugabe era, what does the future look like for the country he has ruined? pic.twitter.com/K5H88Y1NPO

— The Economist (@TheEconomist) 17 novembre 2017
The military appears to want Mugabe to go quietly and allow a transition to Emmerson Mnangagwa, whose sacking last week as vice president sparked the army action.
The generals' goal is to prevent Mugabe handing power to his wife, Grace, 41 years his junior, who appeared on the cusp of power after Mnangagwa was pushed out.
"The madness, sheer madness of his wife who was trying to become the president of the republic and create a dynasty," said Chris Mutsvangwa, head of the influential Zimbabwe National Liberation War Veterans Association.
"The Zimbabwean people are up to here," he said, gesturing to his forehead.
"They better take note. We don't want to be responsible for what the anger of the crowd can do. But what we are saying is, we listen to their message, and we want to channel it in a peaceful and organised manner. No violence."
That was a reference to today's planned rally to demand Mugabe's resignation. Supporters of his ruling ZANU-PF party are set to attend in Harare amid reports that regional branches have joined calls for him to go.
8 provinces want President to quit https://t.co/EpPsBO1v6tpic.twitter.com/okfcSAj9bM

— The Herald Zimbabwe (@HeraldZimbabwe) 18 novembre 2017
A senior member of ZANU-PF earlier told Reuters the party wanted their long-time president gone.
"If he becomes stubborn, we will arrange for him to be fired on Sunday," the source said.
"When that is done, it's impeachment on Tuesday."
with Reuters