Watch: Woman climbs drive-thru to steal food and Happy Meal toys
Comments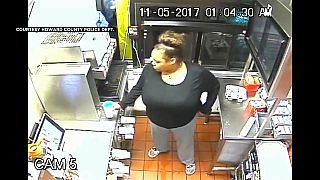 Police have released CCTV footage of a woman climbing through a McDonald's drive-thru window in Columbus, Maryland.
She has been identified as 27-year-old Jessica Marie Cross.
Cross entered the store at approximately 1:00 am and robbed US$1,400 in cash, a purse, food and Happy Meal toys in a 35-minute rampage.
Howard County Police Department posted the video on Tuesday (November 14) offering a reward of up to US$500 for information on the suspect, who was finally arrested on Thursday (November 16) morning.
After the police's Facebook post, the woman was dubbed on social media as the real-life 'hamburglar', a reference to one of the characters from the Ronald McDonald family.
Real Life Hamburglar! pic.twitter.com/fKDGpEBeNg

— Rick Dangerfield (@man_of_stealth) November 17, 2017
Cross is being charged with burglary and theft and officers are still determining "who might be eligible for a portion of the US$ 500 reward money."