Mixed verdict on COP23 climate summit
Comments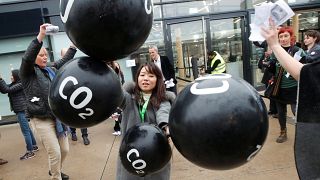 The COP23 summit has wound up in Germany, with plenty of talk about saving the planet – but was anybody listening?
For critics, a sense of urgency was lacking at the first such UN talks since President Donald Trump chose to pull the US out of the Paris climate pact.
Others, like Ann-Kathrin Schneider of Friends of the Earth, are more positive.
"The good signal coming out of Bonn is really that everybody, especially industrialised countries, committed to action before 2020, and also committed to showing what kind of finances, how much money, they want to put on the table to support poor countries with the impact of climate change," she said.
New wave of #ClimateAction announced at @UN Climate Change Conference in Bonn #COP23https://t.co/41htzyU0r3 Major initiatives include funds to support the poorest and most vulnerable #GlobalGoalspic.twitter.com/4FtbpS57W4

— UN Climate Change (@UNFCCC) 17 novembre 2017
Nearly 200 nations made progress towards keeping the landmark global deal of 2015 on track but many issues still need to be resolved.
For Yannick Jadot, a French member of the European Parliament for the Greens, the summit was a disappointment.
"Two years ago, there was the enthusiasm of the Paris accord," he said.
"The entire international community set itself the only credible goal for us, for our children, for nature, to limit global warming to less than 2 degrees, rather to 1.5 degrees. Governments here are agreeing on new methods of discussion but have not committed themselves further on reducing greenhouse gas emissions."
No man is an island: https://t.co/swXFD5cVyx As #COP23 closes, we recognize that taking #ClimateAction is going to take all of us. pic.twitter.com/gZW1bKGQ8S

— UNDP Climate (@UNDPClimate) 17 novembre 2017
Trump's decision to withdraw from the Paris accord overshadowed but did not define the summit which has been hailed as a step in the right direction.
Euronews correspondent in Bonn, Grégoire Lory, said:
"Participating countries now have one year to clarify their climate commitments. Next year in Poland, they will have to agree on how to measure the efforts the international community has made in meeting the Paris climate deal's objectives."
with Reuters