Keystone pipeline spills 5,000 barrels of oil in South Dakota
Comments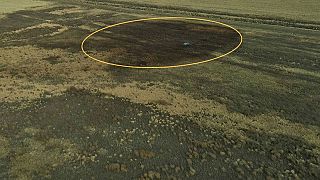 An investigation is underway after a leak in the major Keystone energy pipeline spilled nearly 5,000-barrels worth of oil onto farmland in the US state of South Dakota.
It's owner, TransCanada, shut part of the 4,000-km pipeline on Thursday morning.
It's the largest Keystone oil spill to date and comes just 4 days before neighboring Nebraska was set to decide on the company's long-delayed sister project, the Keystone XL.
Starting in Hardisty, Alberta, the pipeline carries crude oil through North and South Dakota until it splits in Nebraska, with one line continuing towards Illinois, and the other towards Texas.
The leak was detected about three miles southeast of the town of Amherst.
Environmental groups say the spill should raise serious questions about expanding oil pipelines.
So sad that Obama rejected Keystone Pipeline. Thousands of jobs, good for the environment, no downside!

— Donald J. Trump (@realDonaldTrump) November 6, 2015
Keystone XL faces stiff opposition in Canada and the US and was rejected by former US President Barack Obama.
But in March, President Donald Trump officially issued a permit approving its construction.