Four people die after helicopter and plane collide in England
Comments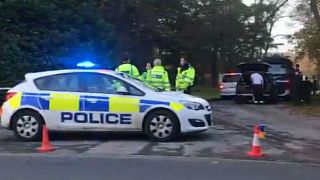 Four people have died after a helicopter and a light aircraft collided near Aylesbury, Buckinghamshire.
Superintendent Rebecca Mears, from the Thames Valley Police, said two people died in each of the aircraft.
Local journalist Tom Bamford shared a video of the scene before the death toll was confirmed by authorities.
We're getting unconfirmed reports that 4 people have died in the Aylesbury air crash. Thoughts and prayers are with the families affected. Police cordon still in operation. At the top of pic.twitter.com/UHVcjvlaOM

— Tom Bamford (@Tom_Bamford1991) November 17, 2017
credit: Tom_Bamford1991
The Air Accidents Investigation Branch and local police have launched a joint investigation regarding the cause of the collision.
Local news website heart.co.uk said that both aircraft are thought to have come from Wycombe Air Park and collided near Waddesdon.
Read the police's full statement here.
Witnessed the crash? Please send an email to newmedia@euronews.com