Nazanin Zaghari-Ratcliffe: husband meets British FM
Comments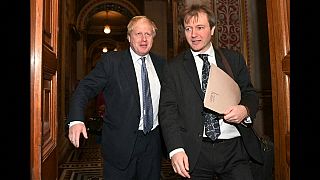 The husband of a British aid worker jailed in Iran has met with British Foreign Minister Boris Johnson to discuss securing her release.
Nazanin Zaghari-Ratcliffe was sentenced to five years in prison for plotting to overthrow the Iranian government.
Radcliffe said his meeting with the foreign minister was positive.
"I am hopeful that he will do everything he can to bring her home by Christmas," he said. "I am hopeful that he is fully engaged in trying to bring her back. He didn't hand on heart say I guarantee it. His job of course is to manage my expectations. My job is to keep expectant."
Johnson was criticised earlier this month after comments he made that Zaghari-Ratcliffe was teaching journalism before her arrest in April last year raising fears her sentence might be extended. He later apologised for his comments and insisted he was doing everything possible to bring about the jailed woman's release.
"I can tell you that people here in the foreign office and across government have been working very hard over the past 19 months to secure the release of Nazanin Zaghari-Ratcliffe," he said. "Indeed to solve some other very difficult consular cases in Iran and we're going to continue to do that and we will leave absolutely no stone unturned in our efforts to do that."
Johnson also stressed the importance of an appeal on humanitarian grounds to secure her release.