The new Barbie ... with a hijab
Comments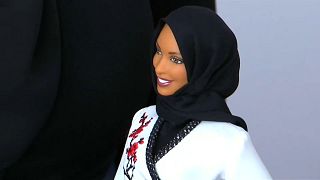 A new Barbie doll that wears a hijab has been unveiled.
The doll is a replica of the Olympic fencer Ibtihaj Muhammad, who walked the red carpet at the Glamour Women of the Year gala in New York.
Muhammad said:"I've had so many moments as an athlete, where I didn't feel included, where I was often in spaces where there was a lack of representation.
"So to be in this moment as a U.S. Olympian, to have Mattel, such a global brand, diversify their toy line to include a Barbie doll that wears hijab is very moving to me, and I feel that it's very revolutionary."
Thank you Mattel</a> for announcing me as the newest member of the <a href="https://twitter.com/Barbie?ref_src=twsrc%5Etfw">Barbie#Shero family! I'm proud to know that little girls everywhere can now play with a Barbie who chooses to wear hijab! This is a childhood dream come true ?? #sheropic.twitter.com/py7nbtb2KD

— Ibtihaj Muhammad (@IbtihajMuhammad) November 13, 2017
The company that makes Barbie has a new line to honour female champions.
The doll with a hijab will be sold online next autumn.
There's a hijab-wearing Barbie based on Olympian Ibtihaj Muhammad, and OMG it's perfect https://t.co/bXkxEOiNodpic.twitter.com/cA5rohFkE6

— BuzzFeed (@BuzzFeed) November 13, 2017