Beirut eagerly awaits return of Hariri
Comments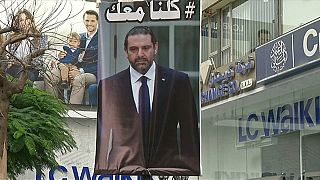 "We're all with you," says a poster of Saad al-Hariri on the streets of Beirut.
People in Lebanon have been expressing their support for the recently-resigned prime minister, who has confirmed he will soon return to Beirut, dismissing rumours he is being held against his will in Saudi Arabia.
Hariri sent shockwaves through Lebanon and the region, announcing his resignation from Riyadh on November the 4th.
One resident of Beirut said: "He said he is coming back and we are waiting for him. Whatever he decides, we are all with him."
Another resident said: "Honestly, I am a fan of Hariri but yesterday, it wasn't him speaking. He looked very tired. We hope for the best, may he return safe and sound, so we can be reassured about him."
France is one of the countries voicing concern about the prospect of a political crisis in Lebanon.
French Foreign Minister Jean-Yves Le Drian said: "We're worried about the situation there because Lebanon has a long history with France and we care about its stability, its integrity, about non-interference and respect of the Lebanese constitution."
Experts are also worried the latest developments push Lebanon back into the forefront of a contest for influence between Iran and Saudi Arabia.