Lebanon's prime minister speaks out for the first time about his resignation
Comments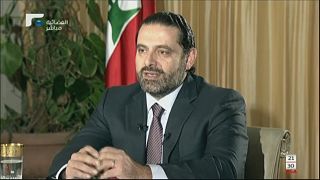 Saad al-Hariri, who announced his resignation as Lebanon's prime minister on November 4 while in Saudi Arabia, said on Sunday he would return to his country within days.
Speaking in an interview with Future TV, a station affiliated with his political party, Hariri said he had offered his resignation in the interest of Lebanon.
Hariri said he planned to return to Lebanon to confirm his resignation in accordance with the constitution.
But he also said that if he rescinds his decision to quit, the Hezbollah movement must respect Lebanon's policy of staying out of regional conflicts.
Hariri left Beirut for Riyadh on Nov. 3 and resigned the following day in a speech that caught even his closest aides off guard, citing fear of assassination and blaming Iran and its Lebanese ally Hezbollah for sowing strife in the Arab world.
The Lebanese authorities believed Saudi Arabia forced him to resign and was holding him against his will.
Lebanon, a country long divided by sectarian conflicts, found a rare moment of unity since-Hariri's shock resignation – at the capital's annual marathon on Sunday
Lebanese of all stripes want him to come back from Saudi Arabia and to continue his work as premier.