Catalan crisis: Spain's Rajoy in Catalonia for first visit since direct rule
Comments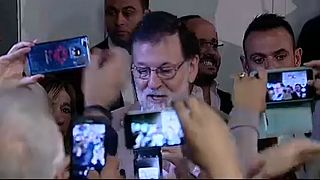 Spain's Prime Minister Mariano Rajoy has made his first visit to Catalonia since imposing direct rule on the region a fortnight ago.
Addressing the crowds at a campaign event in Barcelona he showed support for his Popular Party's candidates ahead of regional elections next month.
Spain's government called the election after Catalonia's Parliament voted in favour of a declaration of independence on 27 October.
His visit comes a day after hundreds of thousands of Catalans protested against the jailing of regional officials for their push for independence from Spain.
The demonstrators gathered on an avenue next to the regional parliament building waving Catalan independence flags and chanting "Freedom!" while some held up banners announcing: "SOS Democracy".
Police estimated the number of protesters at 750,000.