Trading politics for freedom? Catalonia's ousted Parliament Speaker released on bail
Comments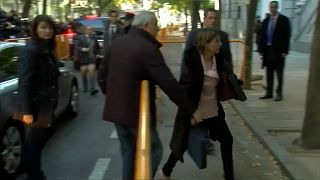 For Carme Forcadell, the road to freedom has been costly on more than a financial level. The ousted Catalan Parliament Speaker was released on bail after answering charges of rebellion, sedition and misuse of public funds, relating to last month's controversial independence referendum in the region.
Spain's Supreme Court ordered her to pay 150,000 euros, but she also had to agree to renounce "any political activity that went against the Spanish constitution." In short, it seems unlikely she'll be able to campaign on a pro-independence platform ahead of the December 21 regional elections in Catalonia.
The terms threaten to further weaken the pro-secessionist movement. She is one of four Catalan politicians released on bail with confiscated passports. A fifth was released without payment or conditions attached. Eight others remain in prison pending a High Court investigation, while former leader Carles Puigdemont is in Brussels, where he is appealing an international arrest warrant.