Artist comes up with original product for Louis Vuitton brand
Comments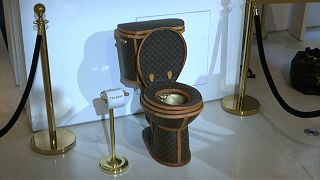 California-based artist Illma Gore's latest project proves anything can become art if covered with a luxury brand.
Gore designed a fully functional toilet covered in $15,000 (12,800 euros) worth of Louis Vuitton bags.
That's 24 leather bags that Gore cut up to cover the toilet with the luxury brand reported a local media station.
The toilet also has a gold-plated interior.
The artist's new art piece will be on display at the Tradesy Showroom in Santa Monica, California.
Gore was also the artist behind a controversial 2016 nude portrait of current US President Donald Trump.