Bolivians pay homage to family skulls
Comments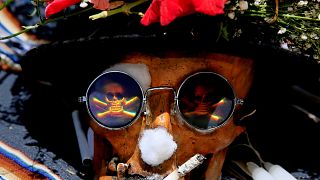 The Day of the Skulls saw Bolivians pamper the remains of their relatives in a tradition that dates back to pre-Catholic times.
The Skulls, known as "natitas", are decked out in hats and sunglasses for the occasion, which falls one week after All-Souls day. They receive offerings of food and cigarettes too.
While the Roman Catholic church does not endorse the practice, local priests are often willing to offer a blessing.
"They need a prayer for these souls and I'm happy to be able to help. Why wouldn't I be able to come?" asked Las Pas priest Hernan Aguilas. "They (devotees) have asked me to be here and pray for these souls and I do it with all my heart and affection."