Saudi Arabia's proxy war with Iran intensifies
Comments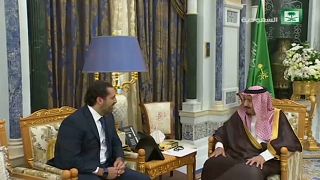 Saudi Arabia has opened a new front in its proxy war with Iran, threatening Tehran's ally Hezbollah and its home country Lebanon.
The regional rivalry has flared in recent days with Riyadh claiming Hezbollah launched missiles at it from Yemen.
Saudi Arabia and Iran were already at odds with each other over an ongoing conflict in Yemen where Saudi-led fighters are battling Iran-backed Houthi rebels.
The resignation on Saturday (November 4) of Lebanon's Saudi-allied prime minister is seen as the first step into unprecedented Saudi interference into Beirut's politics.
The Saudi foreign minister blamed the resignation on Hezbollah who he said had been "calling the shots" in Lebanon.
Analysts say the country, which now has a Hezbollah ally as head of state will leave Lebanon in a protracted crisis that could eventually stir Sunni-Shi'ite tensions.