Gunman 'killed himself' after Texas church massacre
Comments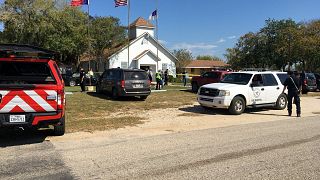 The gunman behind a massacre at a Texas church killed himself after the rampage, officials believe.
He had earlier driven up to First Baptist Church in Sutherland Springs and began shooting before continuing inside.
The massacre, the US state's worst-ever mass shooting, saw 26 people killed and 20 injured.
His victims ranged in age from five to 72 years old, law enforcement officials said in a news conference.
They included the 14-year-old daughter of Pastor Frank Pomeroy, the family told several television stations.
The suspect – named by US media as former US Air Force serviceman Devin Patrick Kelley – was fired upon by a local resident as he left the church.
He dropped his assault rifle and fled in his vehicle, according to Freeman Martin, regional director of the Texas Department of Public Safety.
Soon after the suspect crashed the vehicle and was found dead inside amid a cache of weapons.
Initially it was not clear whether the suspect had killed himself or whether he had been shot.
But speaking on Monday, Wilson County Sheriff Joe Tackitt told CBS News the gunman had died from a self-inflicted wound, even though he had been involved in an exchange of gunfire with two armed citizens.
​"There was some gunfire exchanged, I believe, on the roadway also, and then (the shooter's vehicle) wrecked out," said Tackitt. "At this time we believe that he had a self-inflicted gunshot wound, after he wrecked out."
Where did the massacre happen?
Click the plus arrow to enlarge the map.