Trump arrives in Japan for Asian tour
Comments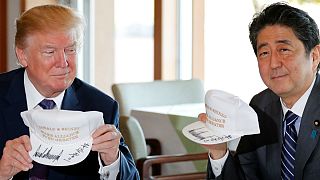 US President Donald Trump has arrived in Japan at the start of a five-nation Asian tour.
Arriving at Yokota air base near Tokyo he met with troops and officials and promised enough resources to protect peace in the region.
This is the longest tour of Asia by any US president in a quarter of a century and comes amid heightened tensions over North Korea's nuclear programme.
Mr Trump gave a warning to nations which might doubt America's strength.
"No one, no dictator, no regime and no nation, should underestimate ever American resolve," he said.
"Every once in a while in the past they underestimated us. It was not pleasant for them was it? It was not pleasant."
Before arriving in Japan Mr Trump also said that he hoped to meet with President Putin of Russia while in Asia, insisting that his help may be needed when it comes to North Korea.
He later met with Japanese Prime Minister Shinzo Abe for lunch. The two leaders then played a round of golf.
The itinerary of his Asian tour will include South Korea, China, Vietnam and the Philippines.
He flies to Seoul on Tuesday where he will also address the country's national assembly.