Japanese PM Abe believes Trump 'can be trusted'
Comments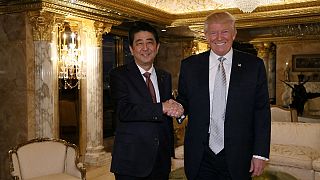 Donald Trump has received a vote of confidence from the first foreign leader he has met since winning the race to the White House.
I am convinced that Mr Trump is a leader who can be trusted

Japanese Prime Minister
The US President-Elect received Japan's Prime Minister Shinzo Abe at Trump Tower in New York on Thursday.
And the verdict from the visiting VIP was positive, despite comments on the campaign trail that set alarm bells ringing in Tokyo and across Asia such as Trump's suggestion that Japan should acquire its own nuclear weapons and his staunch opposition to the Trans-Pacific Partnership trade deal.
Refusing to go into specifics about their 90 minute meeting, the Japanese PM said he believed trust was needed for the alliance between the two nations to function "and, as an outcome of today's discussion, I am convinced that Mr. Trump is a leader who can be trusted," Abe said.
PM Abe's comment following the meeting with Mr. Donald Trump, President-elect of the United States of America
https://t.co/hCN7qHlnnhpic.twitter.com/LvMML5bweI

— PM's Office of Japan (@JPN_PMO) 18 novembre 2016
The president-elect is continuing to pick the team which will help him govern.
A senior Trump official says retired Army Lieutenant General Michael Flynn has been offered the position of White House National Security Advisor, after supporting the winning candidate on the campaign trail.
Trump offers retired Army Lt. Gen. Michael Flynn the role of national security adviser, transition official says https://t.co/ePfNdurXx5pic.twitter.com/Z1ra7nTQnu

— CNN Breaking News (@cnnbrk) 18 novembre 2016
Trump also plans to meet Mitt Romney this weekend, despite the Republican nominee in the 2012 presidential election having called the real estate magnate a "fraud".
JUST IN: Trump is considering Mitt Romney for secretary of state - report. See further shortlist here: https://t.co/VVKxMnFA0mpic.twitter.com/RdJyLFTbbr

— Reuters Top News (@Reuters) 17 novembre 2016