Catalonia's sacked president will ignore a Spanish court order to answer rebellion charges
Comments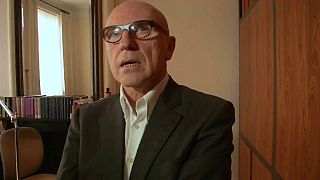 Carles Puigdemont's Belgian lawyer says he does not expect the ousted Catalan leader to return to Spain in the coming weeks, and certainly not for questioning by a Spanish national court judge on Thursday.
Lawyer Paul Bekaert said his client "won't go to Madrid."
Bekaert added that he would look into the possibility of Puigdemont being questioned in Belgium.
Puigdemont appeared at a news conference in Brussels on Tuesday.
A Catalan regional parliament vote in favour of independence last Friday led the Spanish government to trigger unprecedented constitutional measures to take control of Catalan affairs, firing the Catalan regional leadership.
In his appearance Tuesday, Puigdemont said he and the five ousted regional Catalan government colleagues who accompanied him there were seeking "freedom and safety" from Spanish authorities.
Ousted Catalonian cabinet official Joaquim Forn arrived at Barcelona-El Prat airport on Tuesday night where he was surrounded by media and unionist protesters shouting, singing and waving Spanish flags.
Forn was the region's interior minister until he and the rest of the cabinet were fired by the central government last week.
Minister of Labour Social Affairs and Families Dolors Bassa also arrived back in Barcelona on Tuesday night.
All 14 members of the sacked Catalan Cabinet are facing possible rebellion charges at home for driving a secessionist bid to a full declaration of independence.
Spain's chief prosecutor is seeking charges of rebellion, sedition and embezzlement against Puigdemont and his No. 2, Oriol Junqueras.
Rebellion, sedition and embezzlement charges carry maximum sentences of 30, 15 and six years in prison.
A judge has ordered them to appear for questioning on Thursday in Madrid.