Unionists in Barcelona organize mass protest after declaration of independence
Comments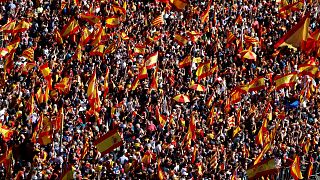 They were tens of thousands this Sunday (October 29) defending the unity of Spain in the streets of Barcelona. Two days after the declaration of independence by the Parliament of Catalan, unionists wished to show that they were not a minority, but a majority that will not stay silent.
Among the protesters were political figures like the party leaders of the centrist Ciudadanos, but also representatives from the Socialist Party and the People's Party, which is currently in power.
For these unionists, the Spanish, Catalan, and European flag must continue to coexist peacefully.
Unes 300.000 persones han participat aquest matí a la manifestació convocada a #Barcelona.

— Guàrdia Urbana

BCN

(@barcelona_GUB) October 29, 2017