Japanese company creates noise-canceling spoon to drown slurping sounds
Comments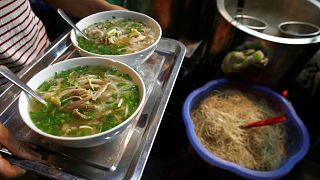 Japanese instant noodle producer, Nissin, has come up with a solution to cover up noodle slurping noises, which are typically made to show appreciation for the traditional dish. But some people (especially foreigners) have become bothered by the noise and have called their disdain for the slurping sound "noodle harassment" on social media.
麺をすする音がヌードルハラスメントとか言われてるらしいが私からすればオッサンが麺を啜る音なんざ当たり前。それより乳幼児がわざとらしく音をちゅっ!ちゅるっ。ちゅ!とたてて親がうちの子可愛いでしょ?的に麺をこねくりまわした手でどこそこ触るガキを放置してる方がハラスメント。あの音が嫌い

— にゃもち (@IFPwfi9XoFJqZIv) October 24, 2017
On Monday (October 23) Nissin announced the sale of Otohiko, a revolutionary fork that plays artificial flushing sounds from a smartphone when it detects the bothersome slurps through its sensitive microphone.
The fork's promotional video shows a group of foreigners who become visibly bothered by their Japanese counterparts' slurping while eating Nissin's instant noodles.
"Noodles still taste nice without slurping," says a foreign man.
"I'm not going to stop eating noodles that way," says a Japanese woman.
"The fork is a solution to the 'noodle harassment' issue, particularly as the number tourists visiting Japan increases," said the company.
The fork was inspired by Otohime, the Japanese toilets that mask other noises when someone uses the toilet.
Nissin will only sell the gadget if it receives 5,000 pre-orders by mid-December at a price of 14,800 yen (112 euros) said Yahoo News.