Watch: Car ploughs through wall and into busy restaurant
Comments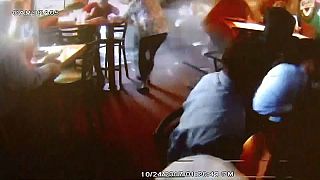 A surveillance camera has captured the moment a car ploughed through the wall of a busy US restaurant.
The video shows the car barrelling into the crowded bar area before diners moved to help those injured in the crash.
The smash happened during the lunchtime rush at Babes Boys Tavern in Maryland on Tuesday, October 24.
It left ten people injured, two seriously.
The bar's owner, Patrick Wilson Jr, a former police officer, said: "Of all the events I've been in it's amazing people aren't dead. It's… I just can't believe it."
Police are still probing how the car came to crash into the restaurant.