JFK's top-secret assassination files released, minus hundreds Trump ordered to be kept back
Comments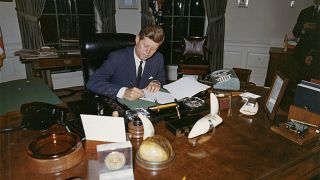 The US government has just released thousands of documents related to the assassination of former President John F. Kennedy, who was shot dead more than 50 years ago.
The papers were posted online by the National Archives and Records Administration in compliance with a 1992 law. However, US President Donald Trump agreed to postpone the release of hundreds more files that were due to be made public, pending a review that is scheduled to end by late April.
"I have no choice – today – but to accept those redactions rather than allow potentially irreversible harm to our Nation's security," Trump said in a memo released by the White House.
The 35th President of the United States was shot dead on November 22, 1963, while riding in a presidential open vehicle in Dallas, Texas. He was supposedly killed by former US marine, Lee Harvey Oswald, whose motives remain unclear. Oswald never stood trial and was shot dead two days later, by local nightclub owner Jack Ruby. Ruby was convicted and sentenced to death but died of cancer in 1967.
Both men were thought to have had links with a high powered criminal underworld, with stories twisting and turning through political circles. Adding to this, missing autopsy documents, anomalies in the crime scene and multiple cover-ups and the conspiracy theories began.
It had been hoped that the long-awaited release might reveal the full story.