Spain's PM says direct rule of Catalonia is the 'only reponse' to its bid for independence
Comments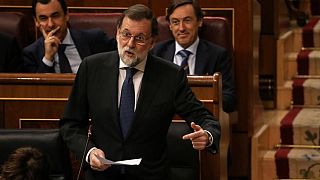 Spanish Prime Minister Mariano Rajoy has told Parliament that imposing direct rule on Catalonia was the 'only response' to its push for independence.
During a special session of the Spanish Congress, Rajoy was questioned by Joan Tarda, from the Republican Left of Catalonia, on his unwillingness to engage in dialogue with the Catalan President Carles Puigdemont.
"The only dialogue I had with Mr. Puigdemont, the only thing he wanted to negotiate with me was the terms and deadlines of the independence of Catalonia." said Rajoy.
"Mr. Puigdemont did not want to talk about anything else."
"He did not want to go to the Conference of Presidents, he did not want to talk about autonomous financing, as the rest of the autonomous communities of Spain have."
"He did not want to come to the Congress of Deputies… Let's see if it is now okay to go to Senate to present their proposals to all citizens".
Rajoy said he hopes the measures planned, including the sacking of Puigdemont's government and the curtailment of the Catalan parliament's powers, will be brief.
He said they should end with regional elections that he hopes could be held as soon as possible but only once law and order is restored.
Spain's Senate is expected to approve the measures Friday.
Rajoy last weekend called for Article 155 to be implemented in an effort to stop a secessionist bid by the regional Catalan government following an outlawed Oct. 1 referendum that Puigdemont said gave him the mandate to declare independence.
Rajoy said the aim of Article 155 is not to suspend Catalonia's self-government but "to restore legality, boost the social co-existence that has been broken in Catalonia and tackle the economic consequences that its decisions are provoking."