Iraqi Kurds offer 'talks and truce'
Comments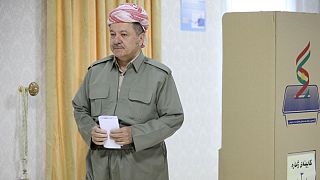 The Kurdistan regional government has proposed freezing the results of a disputed independence referendum.
It is part of an offer to defuse the crisis with the Iraqi central government in Baghdad which regards the vote as illegal.
Kurdish Statement
In a statement the Kurdish government made three major points:
1. Immediate ceasefire and halt all military operations in the Kurdistan Region.
2. Freeze the results of referendum conducted in the Iraqi Kurdistan.
3. Start an open dialogue between the Kurdistan Regional Government and Iraqi Federal Government on the basis of the Constitution.
Last week fighting broke out when Iraqi government troops seized Kirkuk and other areas controlled by the Kurds.
The Iraqi government has described the vote as a threat to the "peaceful co-existence among Iraqis.
People living in northern Iraq had voted overwhelmingly in favour of independence for the Kurdistan Region.