Result of Brexit negotiations is 'up to London', says Tusk
Comments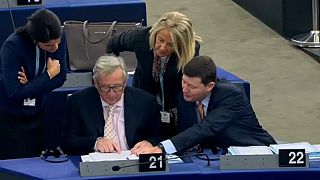 European Council President Donald Tusk has warned the EU must remain united or face defeat over Brexit.
Addressing MEPs in Strasbourg, the ex-Polish prime minister said the next stage of talks would be toughest yet for the EU and insisted the ball was well and truly in the UK's court.
"Ahead of us is still the toughest stress test. If we fail it, the negotiations will end in our defeat. We must keep our unity regardless of the direction of the talks.
"It is in fact up to London how this will end – with a good deal, no deal, or no Brexit," said Tusk
European Commission Chief Jean-Claude Juncker also insisted Brussels wanted a Brexit deal.
"The Commission is not negotiating in a hostile mood (on Brexit). We want a fair deal with Britain and we will have a fair deal with Britain," he said.
Meanwhile, the EU's chief Brexit negotiator Michel Barnier reportedly warned Britain not to expect any 'bespoke' trade deal and that the country must accept the status quo in any transition period.