Hong Kong protest leaders released on bail
Comments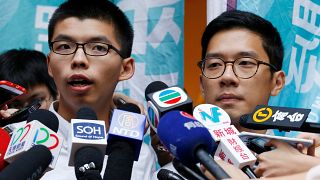 Jailed democracy activists Joshua Wong and Nathan Law have been released on bail by Hong Kong's highest court pending an appeal of their prison sentences.
The pair were convicted in August of sparking an illegal rally in September 2014 that kicked off the "Umbrella Movement" protests that captured world headlines.
Their sentences came amid mounting fears that Beijing is tightening its grip on the semi-autonomous city and that rule of law is being compromised.
Wong, 21, who became the face of the mass pro-democracy protests while still a teenager, was jailed for six months while Law, 24, was imprisoned for eight months.
They were granted bail at the Court of Final Appeal until November 7, the first appearance in the appeal proceedings.